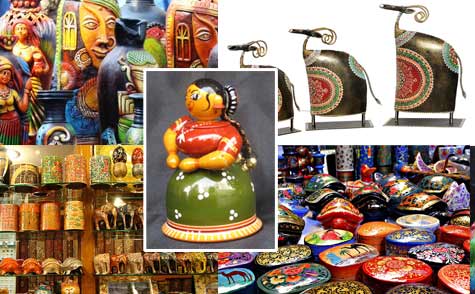 Around 8 percent Handicraft export from India has risen in 2015-16 which is nearly about 31,000 crore.
According to a provisional report, which shows exports of handicrafts have shown an increase of Rs 2,414.79 crore from Rs 28,524.48 crore to Rs 30,939.27 crore- an addition of 8.46 per cent in rupee term in 2015-16 as compared to previous years," said Smriti Irani- Textiles Minister.
Digital Marketing has a Special Focus for Handicraft export from India
From export promotion council for handicrafts, a proposal for the creation of e-marketing platform under marketing support and service scheme has also been received said, Irani. In order to facilitate buyers and sellers, these initiatives are needed to procure/sell as well as to promote product categories both in domestic as well as international markets online.
Now Handicrafts Export Corporation and Central Cottage Industries Corporation have started use of digital platform said by the minister. Through digital marketing, Many state handicrafts corporations are also selling their products.
The minister said that the handicraft sector is not organized properly to distinctively identify for each craft. For rendering quality and authenticity of handicrafts products, the government is contemplating to set up a voluntary scheme with a position to differentiate genuinely and socially- environmentally compliant handicrafts products.